Commissioner
Darryle Rude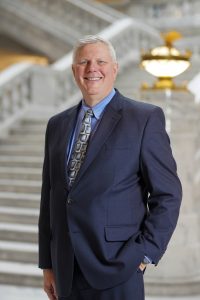 Darryle Rude was appointed Commissioner of the Utah Department of Financial Institutions in June 2022 by Governor Spencer J. Cox and confirmed by the Utah Senate on September 21, 2022. Darryle began his career with the Department in 1989 when he started as an examiner. He served as the Supervisor of Banks (1999-2002) and the Supervisor of Industrial Banks until he was appointed Chief Examiner in 2014.
In his 34 years with the Department, Darryle has received a comprehensive education in financial institution regulation through partnerships and training with the Federal Deposit Insurance Corporation, National Credit Union Administration, Federal Reserve Bank, and Federal Financial Institutions Examination Council.
Darryle's experience working with the Conference of State Bank Supervisors and the National Association of State Credit Union Supervisors provides him valuable insight into regulatory issues and obstacles facing state-chartered financial institutions. Currently, he serves on the CSBS State Supervisory Processes Committee, working to provide stable supervision and ensuring the continued integrity of the nation's financial services system. Darryle also serves as Chairman of the Board of Financial Institutions and is a Utah Housing Corporation board member.
Darryle graduated from the University of Montana with a degree in Business Management and attended the Utah Department of Human Resource Management's Certified Public Manager Program.
Darryle is an outdoor enthusiast who enjoys golfing, skiing, and any other activity that allows him to be outside. He and his wife, Sheila, reside in Draper, Utah, and are parents to two grown children.